Low Carb Zucchini Soup
This is another one of Broadys delicious creations — low carb, fast and easy to make, and absolutely delicious. Enjoy!
Ingredients
3 large zucchini, sliced into 1/4″ rounds
1 teaspoon minced garlic
1/2 onion, chopped (or onion flakes for fewer carbs)
1 tablespoon extra virgin olive oil
2 cups vegetable stock
2 Tablespoons butter or cream
Directions
Coat your pan with the olive oil, and fry onion (or onion flakes) and garlic until brown. Add zucchini and fry for approximately three minutes longer, stirring.
Add the stock and simmer until zucchini is cooked through and soft. Put into a blender, add the butter or cream (may be left out if you're watching your fat intake!), and puree to desired smoothness. If you like a little texture in your soup, only puree 3/4 of the mixture, then combine and stir well. Serve and enjoy!
Makes 3 servings.
Nutritional Information per Serving
(If using butter.)
Calories: 142
Fat: 12g
Carbs: 5.3g
Protein: 1.9g
Spicy Pumpkin Bread
If you're craving bread, but watching your carbs, this recipe is perfect for you! Not only is it super low in carbs, but this bread's also high in protein! It's rich in flavor and may even be eaten as dessert — spread some sugar-free jelly on top for a real treat!
Ingredients
3/4 cup vanilla whey protein powder
1 egg white
1 Tablespoon baking powder
1 teaspoon cinnamon
1/2 teaspoon ground clove
1/2 teaspoon nutmeg
1/8 teaspoon mace
1/8 teaspoon ginger
2/3 cup granular Splenda or stevia
Pinch of salt
1 12-ounce can pumpkin puree
1/4 cup heavy cream
3 large eggs
1/8 cup water
3 Tablespoons almond oil, walnut oil, or coconut oil
Walnuts, chocolate chips, or raisins may be added for variety and if macros allow
Directions
Preheat oven to 375 F and spray a Pyrex loaf pan with cooking spray.
Combine all dry ingredients in one bowl, and all liquid ingredients (including pumpkin) in a large bowl.  Once the liquid ingredients are combined, gradually add the dry ingredients and mix with an electric mixer for one minute.
Pour into prepared loaf pan and bake for 1 hour and 20 minutes. Allow to cool well before slicing, then cut into 15 slices.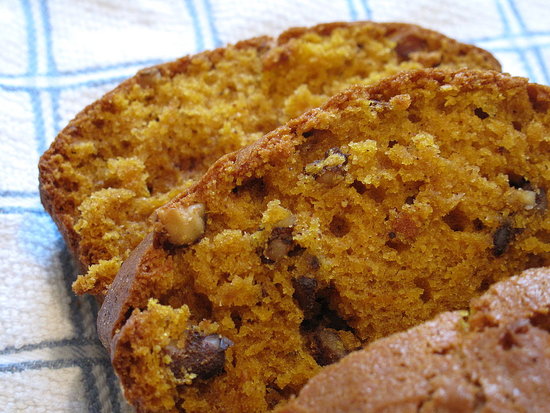 Nutritional Information per Slice
Calories: 56
Fat: 4.2g
Carbs: 2.5g
Protein: 5.3g